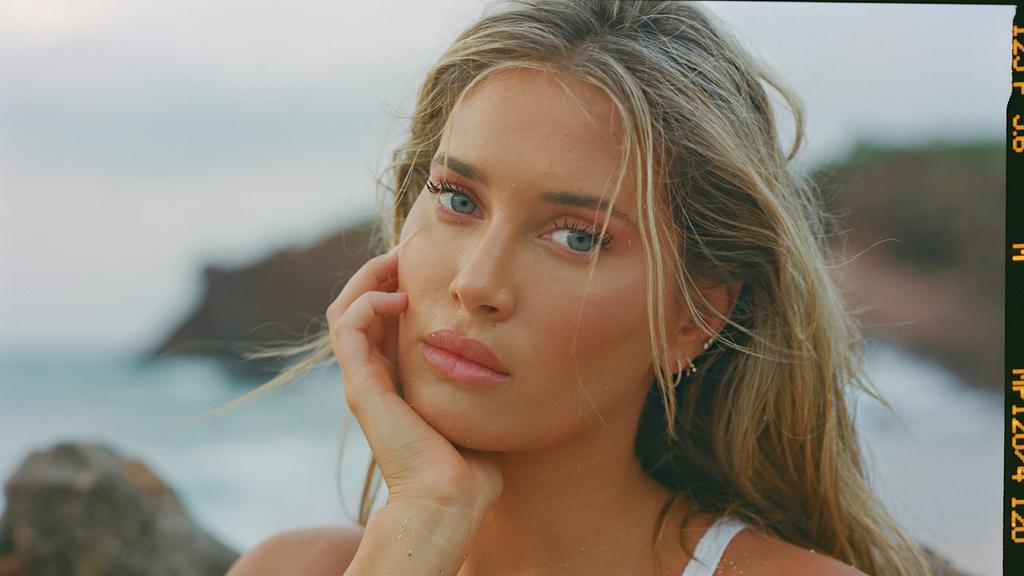 If you're a frequenter of the social media feeds of today's oft-referenced style icons—read: Kendall Jenner, Bella Hadid, Hailey Baldwin, Kylie Jenner, Gigi Hadid, Miley Cyrus and Sofia Richie—then you've likely eyed the designs of Malibu-birthed bikini brand, Frankies Bikinis.
Success with this specific group of brand loyalists is likely due to the founder being one of their generational peers. Founder and creative director, Francesca Aiello's, success seems to have come later on in her already-lengthy career, the 24-year-old designer having kick-started her bikini brand almost seven years ago.
Launching Frankies Bikinis out of a desire to locate the perfect bikini and one-piece swimwear, now Aiello seeks to fill another self-found gap in the market, moving into the beauty space to bring the world what they've so often asked of her.
Having just launched in the US—to a 5000-strong waiting list, may we add—Frankies Bikinis Beauty, a collection of the clean beauty variety, was formulated following countless questions directed at Aiello around her favourite products, hacks and secrets, as well as the founder's growing fatigue when it came to mixing her own cosmetics to create custom formulas.
The beauty collection's first drop—dubbed the 'essentials collection'—includes a glow-promoting mist, moisturiser and multi-purpose tint. Together, the trio make up Aiello's three personal, low-maintenance beauty staples and the basis of her everyday make-up look, each product aiming to up the skin's moisture and nourishment. Wear it to work, a brunch date, or even to the beach!
Vogue chatted with Aiello on why she made the move from swimwear to skincare and cosmetics, how it filled a gap in her personal routine (and how it'll do the same for you), and her personal mission to create clean, easy-to-use beauty products.
You've experienced much success in the swimwear space since the launch of Frankies Bikinis, hoards of celebrity fans and nearly one million Instagram followers evidence of that. After almost seven years in the swim space, why beauty, and why now?
"Beauty has always been a huge passion of mine alongside swimwear. I am always playing with my favourite products and mixing them together to give me that exact pigment or texture I am looking for. So many people always ask me what products I use to get this natural glowing look to my skin, and I just decided that now was the time to create my own and share my beauty essentials with everyone."
"One thing I try to do with Frankies Bikinis is continuously evolve—adding apparel into our collections, playing with different fabrics and silhouettes, collaborating with new designers and people—for me beauty was a natural progression for the brand that has the ability to really push us to the next level. I know a lot about the ingredients I always look for in my beauty products because I have such sensitive skin, and they need to be clean and safe, otherwise I will have a bad reaction to them. With this knowledge and a team of beauty experts that I am working with, I was able to create an easy to use and clean, yet effective trio of products essential for obtaining my everyday glowing skin."
How did you envision Frankies beauty launch filling a gap in our beauty routines? And how did it fill a gap in yours?
"Frankies Bikinis Beauty was created to be a simple yet effective three-step process to achieving natural glowing skin, by primarily focusing on your natural beauty you already have and enhancing that. One thing I have always focused on with my customers is building trust—trust that they will feel confident when wearing our products and trust that they know when we launch something new that it will do the same."
"I think that by launching the essentials collection, people are going to be able to trust that using these three products will not cover up their natural beauty but enhance it and continue to do so throughout the day or for any occasion. The products are great for so many skin types (non- comedogenic oils which means they do not clog your pores, ingredients that act as a natural antioxidant and protective agent, and ingredients that are detoxifying and help protect the skin from environmental pollutants) because they contain no harmful additives or artificial ingredients, and are also so versatile."
"If you are out at the beach you can use these when you get out of the water to freshen up the look of your skin, if you are going out for the night you can add these products into your make-up routine as a primer, glow tint for cheeks eyes and lips and as a make-up setter, or if you are going out to run errands or to meetings, you can use the mist to freshen up your skin throughout the day. So I think that the name 'essentials collection' is actually exactly what it says, essential to anyone and everyone's everyday beauty routine no matter what that might be."
Had your experience with not-so-clean beauty products in the past led you to formula your own beauty range as a clean one?
"YES! I have extremely sensitive skin and when I use a beauty product that has harmful or not clean ingredients in it, I will almost always wake up with a swollen eye or something wrong with my skin. It was important for me to develop products that my customers and everyone using will know are safe and not cause any harm to their skin. There is nothing worse than purchasing a product, having a bad reaction to it, and not being able to use it anymore, and the fix to that is clean and natural ingredients that don't lessen the effectiveness of the products."
You worked with a team of industry experts for two years to perfect each product—what was your overarching goal for the beauty range throughout its development?
"The overarching goal for this beauty range was to create easy-to-use, clean, safe and versatile products that will enhance people's natural glow and beauty. This is a goal with not only beauty but our brand as a whole—we always want to create products that highlight [our] natural beauty rather than covering it up, and products that can be used and worn to accommodate everyone as they please."
"We know that not everyone has the same skin type or skin tone, and we wanted to create products that did not limit the ability for anyone to use. The great thing about having products like those in my essentials collection are that people can use as they please—they can layer into their make-up routine, they can wear alone, and they can use at any part of the day. By using the highest quality ingredients, people with all skin types can use these products without having to worry about them harming their skin—these are essentials that anyone can carry in their beach bag, their everyday bag, and incorporate into their everyday routine."
What's next for Frankies Bikinis Beauty? Perhaps the ultimate beach companion, SPF?
"We have lots of exciting things in store for Frankies Bikinis Beauty and I want to share all of them already! The line will always tie back to products that I use as a part of my everyday beauty routine, and I am always at the beach and in the sun so that will most likely continue to be a part of each drop."
["source=vogue"]